Press release
HealthCare Insights Names GENAIZ as Leading AI-Powered Healthcare Solution Provider to Watch in 2020
GENAIZ recognized as solutions provider who has continually helped healthcare solutions providers deliver the best treatments
Montreal, QC, August 14, 2020 – GENAIZ has been named one of the 10 Most Advanced Artificial Intelligence (AI)-Powered Healthcare Solutions Provider to watch in 2020. The award, given by The Healthcare Insights Magazine, recognizes solutions providers who have continually helped healthcare solutions providers deliver the best treatments.
Placement on the list distinguishes GENAIZ as an industry leader that has demonstrated excellence through their vision, innovation and overall execution. This opportunity also showcases GENAIZ's deep culture of innovation and approach to AI technology that has helped healthcare and life sciences practitioners mitigate the complexities in their healthcare systems.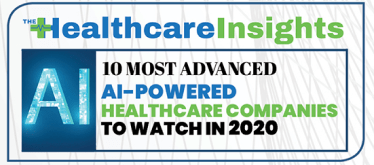 "We are honored to be recognized as a leading healthcare solutions provider." explains GENAIZ CEO Catherine Lunardi. "At GENAIZ our creative approach to technology continuously breaks new ground with AI integration using smart assistants, effective workflows, and seamless integration so that our clients can do more. We will continue to work in partnership with our clients to make a difference in healthcare."
According to The Healthcare Insights, "AI has always been a disruptive technology with substantial potential. With its ability to simultaneously amaze, enthral, and intimidate it has become a super-power technology that every business is betting on."
About The Healthcare Insights
The Healthcare Insights is a comprehensive guide to all thing's healthcare related in North America. Specializing in quality content on both digital and publication platforms, their mission is to increase awareness about healthcare and spread useful information that can help better the lives of individuals across the world.
For more information, visit thehealthcareinsights.com.
About GENAIZ
GENAIZ is an innovation accelerator; providing insights, ideas and recommendations that advance existing projects and identify untapped opportunities. It is a revolutionary solution for the management of knowledge related to the multiple facets of innovation such as portfolio, regulatory, product management, combined with cutting-edge AI/ML-based intelligent assistants.
For more information, visit www.genaiz.com.
###